Skip Navigation
Website Accessibility
Who Is Rulon Gardner?
Olympic Gold Medalist, Survivor, Motivational Speaker
Rulon's Childhood
The youngest of nine children, Rulon Gardner was born to Reed and Virginia Gardner on August 16, 1971. He was raised on a dairy farm in Wyoming, where the family grew crops and milked cows twice a day. Rulon learned about hard work and determination which became core values in Rulon Gardner's life. These proved to be particularly important as Rulon embraced numerous challenges in his life.
School was a struggle for Rulon due to a learning disability. On the playground, he was the biggest, slowest kid. Thankfully, Rulon's mom and dad were always telling him that with prayer and persistence he could find the strength to do anything.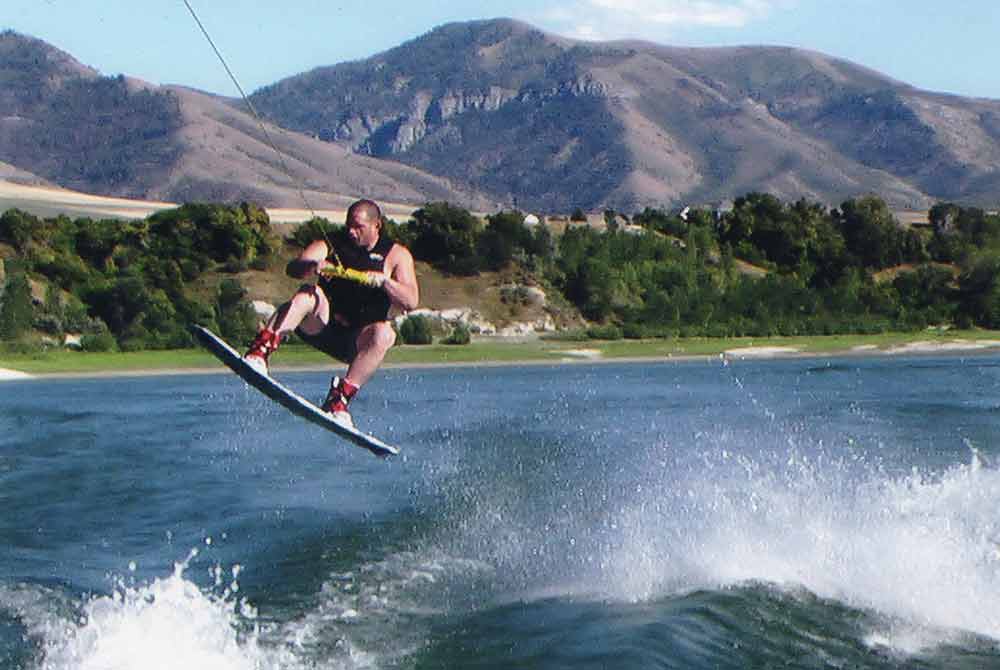 Wrestling
Rulon's wrestling career began when he was six years old. For one week every year, Star Valley would have a wrestling camp, which always concluded with a tournament on the weekend. Rulon participated in this from six years old until he started junior high school at 12 years old.
Rulon began a regular wrestling season while in junior high and continued with the wrestling seasons until he graduated with a degree in physical education from the University of Nebraska. After graduating from the University of Nebraska, Rulon continued his Olympic wrestling pursuit with full-time dedication.
The Olympics
As a member of the 2000 US Olympic wrestling team, Rulon was pitted against Russian legend Alexander Karelin, in what can only be described as a David versus Goliath scenario. Against harrowing odds, Rulon emerged as the victor. In doing so, he immediately captured the admiration of Americans, winning the gold medal in one of the biggest upsets in Olympic history.
Rulon came back to the Olympics in 2004 to defend his title and took home the Bronze medal. In 2010, Rulon was inducted as a Distinguished Member of the National Wrestling Hall of Fame.
Greco-Roman Wrestling Team, Sydney Australia
Fighting To Live
In 2002, Rulon faced a serious life-threatening situation. During a snowmobiling trip with some friends in Star Valley, Wyoming, he became separated from the group and fell into the freezing Salt River with his snowmobile. The sun began to lower and the temperature, which had been twenty-five degrees, began to drop. He tried to work his way out of the valley, but couldn't get out. Ultimately, his snowmobile became stuck between two large boulders. After falling into the river four times, Rulon was unable to move any farther and he decided to build a shelter and wait for a rescue team.
After several hours in his makeshift shelter, he stopped shivering and started having visions, which led him to believe that he was probably dying. He remained stranded for 18 hours. When he was eventually rescued, he was experiencing hypothermia and severe frostbite. Due to the physical damage, a saw had to be used to remove his boots. He was afraid that he would lose both of his feet, but fortunately, he only lost his right toe to amputation. In just one year, he went through rehabilitation and was back on the mat. In 2004, he won a bronze medal at the Olympics.
Unbelievably, that wasn't Rulon's only near-death experience with hypothermia. In 2007, Rulon and two friends crashed a lightweight aircraft into Lake Powell, Utah. The three men swam for more than an hour in 44-degree water to reach the shore. They spent the night in freezing temperatures with no fire or shelter. In the morning they were able to flag down a passing fisherman who picked them up.
Rulon's Plane Crashed in Lake Powell
The Wintry Valley in Wyoming Where Rulon Was Stranded
The Biggest Loser
Rulon again captured the attention of America when he appeared as a contestant of the NBC television program The Biggest Loser. After the Athens Olympics, Rulon had gained 210 pounds, culminating in total body weight of 474 pounds.
In January 2011, he was announced as a contestant on season 11 of the American reality television show, The Biggest Loser. After 16 weeks on the show, Gardner had lost 173 pounds!
Rulon's achievements in the program were nothing short of astonishing. After reaching his competitive training weight, Rulon chose to leave the show in support of his wife and to begin the next chapter of his life.
His Autobiography
In 2005, Gardner published his autobiography (co-written by Bob Schaller), Never Stop Pushing: My Life from a Wyoming Farm to the Olympic Medals Stand. This inspiring memoir tells the story of his impoverished upbringing as one of nine children in a close-knit Mormon family on a farm in Wyoming, where unceasing chores led to tremendous strength at an early age. Rulon also describes his Greco-Roman wrestling career, his Olympic victory, his academic struggles, and an account of his near-death experience after the snowmobile accident.
Motivational Speaking
Rulon is currently making his profession as a motivational speaker, often appearing as a keynote presenter and event host. He has appeared at many corporate events, celebrity golf tournaments, trade shows, and conventions.
Teacher & Insurance Agent
Rulon currently serves as the head wrestling coach at Herriman High School in Utah. He loves working with kids to help them achieve their greatest success. He also works as an insurance agent at JRI Insurance in Payson, Utah. He knows a few things about planning for the unexpected and would be happy to answer your questions about any type of insurance.
Photo by Francisco Kjolseth, The Salt Lake Tribune. Traycee Norman, 16, jokes around with Olympic wrestling champion Rulon Gardner.
Rulon with his team of JRI Insurance agents.